Product characteristics
Variable flow: The flow adapter can be used to generate a range of natural water movements
Secure: Four suction holders for mounting are included with delivery – a magnetic bracket is available as an accessory
Smart design: The pump runs quietly and requires very little maintenance
Infinite adjustment: The water flow rate can be easily adapted to the individual needs of animals and plants
Saves money: Low power consumption with maximum pump output
Creates room for your imagination: The handy pump takes up little room and can be discreetly hidden, e.g. behind the decoration
Technical data (2000)
| | | |
| --- | --- | --- |
| Dimensions (L x W x H) | mm | 100 x 60 x 60 |
| Diameter of flow outlet | mm | 37 |
| Rated voltage | | 230 V / 50 Hz |
| Power consumption | W | 3,5 |
| Power cable length | m | 2.00 |
| Net weight | kg | 0.40 |
| Guarantee | Years | 3 |
| Min. flow rate | l/h | 1500 |
| Max. flow rate | l/h | 2000 |
| Suitable for freshwater | | Yes |
| Suitable for saltwater | | Yes |
| Item number | | 33956 |
| EAN | | 4010052339566 |
Technical data (4000)
| | | |
| --- | --- | --- |
| Dimensions (L x W x H) | mm | 120 x 68 x 78 |
| Diameter of flow outlet | mm | 47 |
| Rated voltage | | 230 V / 50 Hz |
| Power consumption | W | 5 |
| Power cable length | m | 2.00 |
| Net weight | kg | 0.60 |
| Guarantee | Years | 3 |
| Min. flow rate | l/h | 2400 |
| Max. flow rate | l/h | 4000 |
| Suitable for freshwater | | Yes |
| Suitable for saltwater | | Yes |
| Item number | | 33973 |
| EAN | | 4010052339733 |
Technical data (5000)
| | | |
| --- | --- | --- |
| Dimensions (L x W x H) | mm | 120 x 68 x 78 |
| Diameter of flow outlet | mm | 47 |
| Rated voltage | | 230 V / 50 Hz |
| Power consumption | W | 10 |
| Power cable length | m | 2.00 |
| Net weight | kg | 0.60 |
| Guarantee | Years | 3 |
| Min. flow rate | l/h | 3600 |
| Max. flow rate | l/h | 5000 |
| Suitable for freshwater | | Yes |
| Suitable for saltwater | | Yes |
| Item number | | 33978 |
| EAN | | 4010052339788 |
Details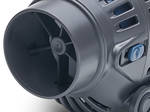 Just like nature:
The flow adapter creates wide and narrow flow patterns so that different water movements can be generated for freshwater and saltwater.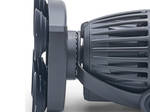 Secure:
Four high-quality suction holders can be mounted quickly and give the StreamMax Classic optimum support.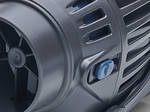 Variable flows:
The continuous water flow setting allows different flow strengths.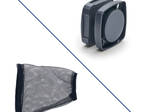 Array