Tropica Schismatoglottis prietoi 1-2-Grow!

Schismatoglottis prietoi can resemble Anubias, wit 3-8 cm long, eliptic leaves. Growth is faster, though, and it grows best planted in the bottom layer, where it willingly produces runners. 
It is an undemanding and easy plant, thriving very well in most aquaria, even in very poor light. Schismatoglottis prietoi naturally grows in rivers of the Phillipines, where it often appears in large, dense groups.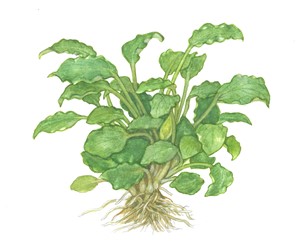 Plant info
Type:
Stolon
Origin:
Asia
Country or continent where a plant is the most common. Cultivars arise or are bred in cultivation.
Growth rate:
Medium
Growth rate of the plant compared to other aquatic plants.
Height:
3 - 5+
Average height (cm) of the plant after two months in the tank.
Light demand:
Low
The average or medium light demand of an aquarium plant is 0,5 W/L.
CO2 :
Low
A medium need in CO2 is 6-14 mg/L. A high demand in CO2 is approx. 15-25 mg/L.